Keyword research tools are an essential part of your SEO strategy. Keyword research is the driving force, and often the first step, behind any successful digital marketing strategy.
To put some perspective on it; the difference between a martial arts site that gets lots of traffic vs one that gets very few is often an indication of how good a site's keyword research was.
If you target the right keywords, you'll get traffic. If you write great content that helps the user, you'll rank high. It's all part of doing good SEO.
It's about as important as it gets.
The best part is that there are loads of great tools to perform keyword research for you.
So, if you want to improve your keyword research and drive more traffic to your website, you'll need to use at least one of the following tools:
Best Keyword Research Tools for Martial Art Gym Owners
Ubersuggest was one of the most popular free tools – before it became a paid tool earlier this year – but still offers really good value for money.
What I like most about Ubersuggest is how clean and simple the interface is. This doesn't mean it's a simple tool, it still crawls a large amount of data and provides detailed reports.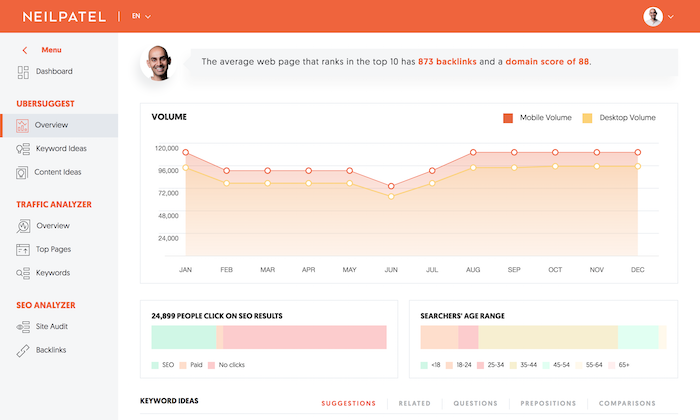 It just means it's one of the simpler tools to use. I wouldn't call it a "high-end" keyword research tool like Ahrefs or Moz Pro, but it's still going to help you find profitable keywords.
You can do everything from generating keywords, analyzing competitor's sites, comparing the difficulty on keyword and domain level, and much more.
Key Features: 
Easy to use
Excellent keyword generation and comparison tools
Can use it free for a number of searches per day
It's one of the more affordable keyword tools
There are regular updates adding new features and functionality
Cost: 
There are currently three pricing plans;
Individual – $29/mo
Business – $49/mo
Enterprise – $99/mo
The individual plan will be fine if you are managing one website. The more sites you have and the larger number of keywords you want to track, the larger the plan you'll need.
Ahrefs usually tops the list when marketers are talking about what the best SEO tools are.
This doesn't mean it's going to be the best tool for you though. In fact, Ahrefs might have the most powerful suite of SEO tools on the market, but it's one of the most expensive and suited more to agencies.
It's great for KW research. You can type in keywords like "muay thai", or "jiu jitsu" and it'll return hundreds of related keywords. Most of which you may never have thought of yourself.
Ahrefs gives each keyword a difficulty score, helps you drill down further into the topic, and provides historical data.
Key Features: 
One of the most powerful suites of SEO tools
Comprehensive keyword generation and comparison tools
Advanced reporting features to enable detailed analysis
They boast having the largest backlink database of any tool
Cost: 
You can try Ahrefs for 7 days for just $7. After that, monthly plans start at $99/mo and go all the way up to $999/mo.
Moz is one of the longest-running SEO companies and still one of the most respected internet marketing brands.
Any online business able to ride the wave of Google updates and the fast-paced internet marketing landscape has a deep understanding of SEO, so it's easy to trust Moz's tools.
Their Chrome extension is one of the most popular free SEO tools. It links into their Moz Pro suite of tools too, which includes a keyword research tool.
All you need to do is type in a keyword, such as "mixed martial arts", and Moz will do the rest for you.
Key Features: 
One of the longest-serving SEO tools on the market
You get access to a custom dashboard
Clean UX with easy to understand data
Perfect for beginners and experts alike
Cost: 
Moz Pro currently has four pricing plans depending on the amount of usage you need per month:
Standard – $99/mo
Medium – $149/mo
Large – $249/mo
Premium – $599/mo
There is a keyword tool that's readily available to everyone for free – and it might just do everything you need.
Google's Keyword Planner is designed to help companies find keywords to bid on so they can advertise at the top of the search results and jump to the top of the page.
Anyone can use it to find keywords to target with an SEO strategy though.
The interface is basic, you don't get all of the advanced reporting features other tools offer, but the data is good and that's what counts.
Why is the data so good? Because it's coming directly from Google. You're looking for keywords that have search volume in Google that you can rank for, so it's worth digging through their data.
Key Features: 
Quality data provided by Google based on real search history
CPC data included, showing you which keywords are worth more
It's free to use
Cost: 
100% free. All you have to do is sign up for an account.
Wrapping Up
Whichever tool you decide to try out, the important takeaway from this article is that you absolutely have to use keyword research tools if you're going to find the right keywords for your martial arts business.
If your budget is holding you back, start with Google's Keyword Planner. The important thing is that you find keywords with real search volume before working on your content strategy.
Otherwise, you risk wasting your time. Do you want to learn more about keyword research tools and the process of finding the right terms for your site? Contact us for more information today!